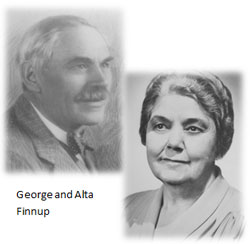 His son, George, carried on the family business and became a prominent entrepreneur and businessman in Garden City.    He was a man who made sound business decisions and lasting friendships.  He married Alta May Smith, the daughter of another pioneer family.  Alta was buying groceries at the Finnup Grocery Story (where today's Foundation office is located) and there she met George Finnup.  They married in 1902 and had two children - Frederick and Isabel Finnup.  In 1922, they moved into the house at 405 North 9th Street, which is now owned by the Foundation and is available for use by the community.
The first of a long series of services to Garden City by George Finnup began during the time the early-day boom came to an end and the panic of 1893 struck.  The City of Garden City had a bonded indebtedness of $125,000.00 and was on the verge of bankruptcy.  Through the efforts of George Finnup, new investors in the city were found, taxpayers resumed payments, interest rates were lowered and obligations were settled for 50 cents on the dollar.  Garden City was back in business.  This was the beginning of a life of giving.  George Finnup was proud to live in Garden City and his main objective was to make Western Kansas a better place to live.
As the various Finnup enterprises prospered, George began contributing heavily to projects benefitting Garden City and its residents.  He believed that education was important to a growing and vibrant community.  He realized that one essential was lacking, a library in every school.
George made the proposition to every school in the county that he would donate a sum of money if the school would match it for the purpose of supplying each district with an up-to-date library.  Every district in the county accepted the offer.  The project was so popular that the offer was extended to other counties in southwest Kansas.